Join us on Sunday May 7th as we welcome Dan Barker as our featured speaker.  Dan Barker is a professional musician, published author, and Co-President of the Freedom From Religion Foundation.
More information about about Dan can be found at the FFRF website.  Click here.
Hemant Mehta
Atheist blogger, author, and freethought activist will be speaking at our September chapter meeting
10:00am 9/11/2016*
Join us for lunch afterwards at Papa Luigi's directly following the meeting.
* Please note that our September meeting has been moved form September 4th to    September 11th to accommodate the holiday weekend.
***************************************
Members and non-members in the Southeast Wisconsin area, please take a moment to complete our survey.
Dear Fellow Freethinkers,
SWiFT is committed to supporting and promoting freethought principles and activities in the Southeastern Wisconsin area.  These activities include a number of events that we hold on a regular basis, including monthly membership meetings, informal dinner get-togethers, and solstice parties.  We also promote activities in the broader freethought community, including those of organizations that support secularism, humanism, and rational perspectives.  In addition, SWiFT is considering holding one or more conferences to promote those principles to a broader audience.  
To best serve the freethought community, it is important that SWiFT's activities are of the greatest interest to the community and are held at times and locations that will be most effective and convenient to encourage active participation by the members of the community.  We decided therefore that we should ask you as members of the community what is of greatest interest to you and how we can best encourage participation and the promotion of freethought principles in the area.  
We have prepared a very brief survey and are asking you to take just a moment to complete it.  We understand that privacy is I
mportant, and we want to assure you that this has been structured to maintain your anonymity.  
Thank you,
Southeast Wisconsin FreeThinkers
***************************************
***************************************
January 3rd Business Meeting
Note to members. The January 3rd meeting will be at 10:00AM instead of the normally scheduled 11:00AM start time.  The January meeting will be our annual business meeting where we will elect one of the four board member positions.  We will also be announcing the officer appointments.
After the business meeting there will be a open discussion on the nature of freewill lead by SWiFT members Ted Shellhamer and John Phillips
***************************************
SWiFT October Meeting
Guest Speaker Patrick Elliot, one of the outstanding staff attorneys at FFRF, will be talking about church-state separation issues, the upcoming FFRF Convention in Madison, and the newly published report, "Pray to Play," detailing the scandalous activities of college athletics programs in our nations tax-payer funded public universities. Please attend and support our efforts to keep state and church separate.
***************************************
Anne Gaylor, FFRF principal founder, dies
June 15, 2015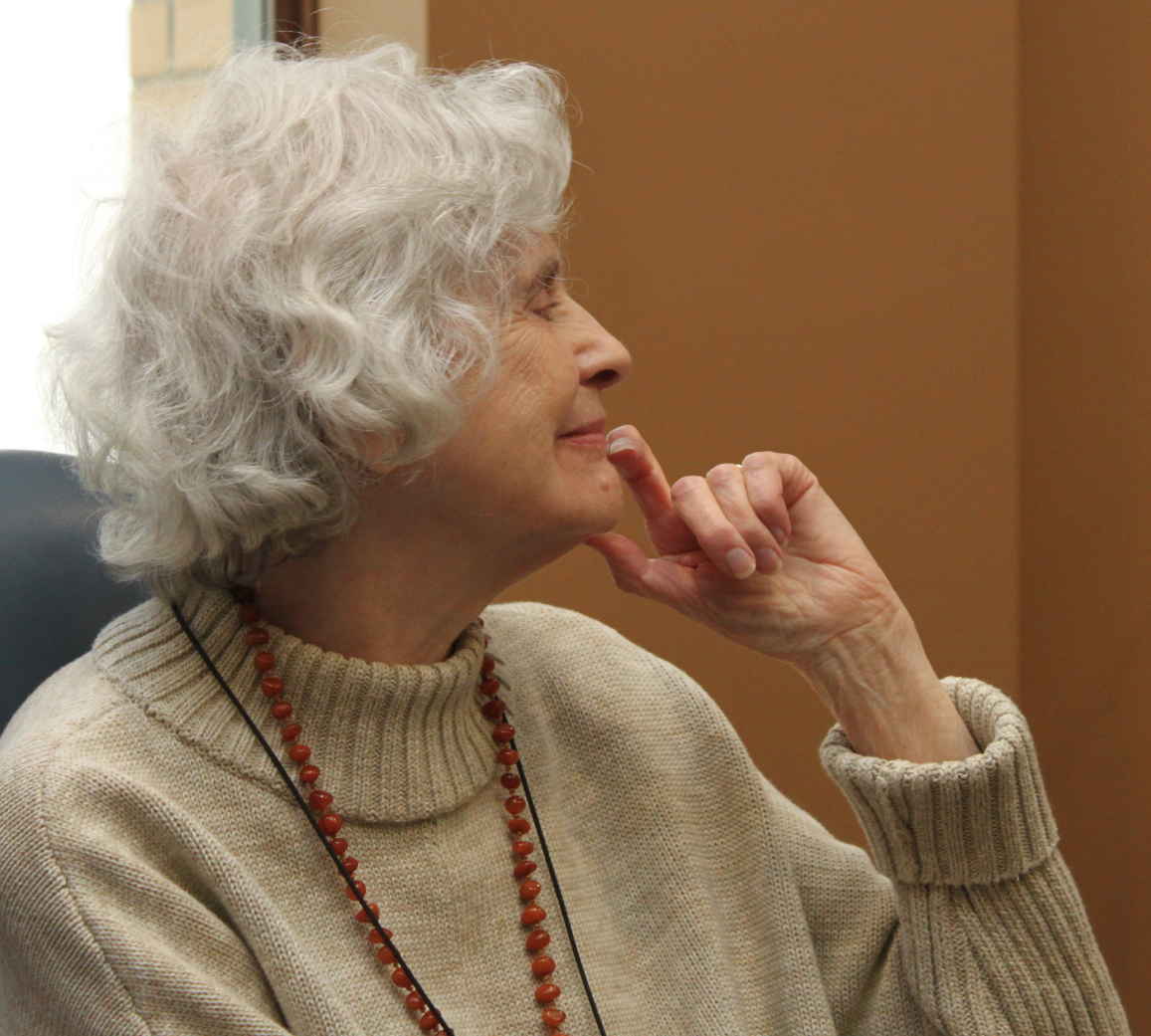 1975, 2015
Anne Nicol Gaylor, 88, the principal founder of the Freedom From Religion Foundation, died just before midnight on Sunday, June 14, at a hospice in Fitchburg, Wis. She was hospitalized May 30 after a bad fall in her independent living apartment in Madison.
– See more at:
***************************************
Planned Parenthood Advocates of Wisconsin gave a presentation to SWiFT members at our July meeting.  they discussed some of their many health care services they offer and took Q & As from those prersent.
***************************************
SWiFT Monthly Meeting
Sunday June 7th
FFRF Staff Attorney Sam Grover will be speaking to us about the legal challenges facing non-theists today.  Sam will be highlighting some of the important work FFRF is doing to protect our religious freedoms and what we can do to help.
FFRF Staff attorney Sam Grover
***************************************
SWiFT members at the FFRF Darwin celebration.
SWiFT meeting Sunday March 1st
Chris Larson State Senator
State Senator Chris Larson will be speaking to us at the next SWiFT meeting.  He will be speaking about the current state of Wisconsin and discussing our state budget.  Time permitting, he will also be answering questions.
More information about Senator Larson can be found on his website.
Senator Chris Larson Website
***************************************
SWiFT Billboard in Milwaukee
Our billboard near 14th and St. Paul sends a holiday message to all.  The billboard was paid for jointly by SWiFT and American Atheists.
***************************************
FERMILAB TOUR
Saturday September 27th
SWiFT toured the Fermi National Accelerator Laboratory, home of the Tevtron and the place where high-energy particle physics is pushed to the limit.
***************************************
SWiFT Summer Solstice Party 2014
Saturday June 21st, 2014
***************************************
ARE MORALS OBJECTIVE?
A talk about metaethics by UWM Philosophy Department Chair Russ Shafer-Landau
Most of my work over the past dozen years has been in metaethics, which is that area of philosophy that focuses on questions about the status (rather than the content) of morality. Such questions include:
Is morality created by human beings, or is it in some way objective?
How do we gain moral knowledge?
Is there always excellent reason to obey moral requirements? Are immoral people necessarily irrational?
How can moral values exist in a world governed by scientific laws?
(From Professor Shafer-Landau's website)
Sunday April 6th, 2014 11:00 AM

Chase Bank Community Room
4702 S. Packard Ave. (Lower Level, enter in rear)
Cudahy, WI 53110
This is a free SWiFT event open to the public
***************************************
A Double Dose of  Darwin
"It's not the strongest of the species that survive, nor the most intelligent, but the ones most responsive to change."
UW Madison
February 4-8
UW Madison JF Crow Institute for the Study of Evolution
Click here for more details
****************
Celebrate Darwin Day with SWiFT
We will be celebrating Darwin Day on Sunday 2/9/14
(Actual Darwin Day is February 12th)
Feel free to bring treats
This event is open to all.  If you are planning on going, could you please go to the Atheist MeetUp of Milwaukee and indicate that you are attending, or send an email to [email protected].  We're trying to estimate how many are coming.  Thanks much.
***************************************
SWiFT 2013 Winter Solstice Party
December 21st 2013
Thanks to everyone for making the solstice party a blast!
***************************************
The Atheist Community of Milwaukee Highway Clean up Summer 2013

***************************************
SWiFT Summer Solstice Party 2013

*****************************************